We specialise in IT solutions for MATs
We work with Multi-Academy Trusts to identify how IT systems can contribute to excellence in teaching and learning outcomes. We listen to your needs and ensure that the IT solutions that we recommend integrate seamlessly with the overall strategic direction of your trust while making the best use of trust funds.
We understand that secure, reliable and easy to manage IT can greatly enhance any learning environment and we have the experience and knowledge to deliver exactly that.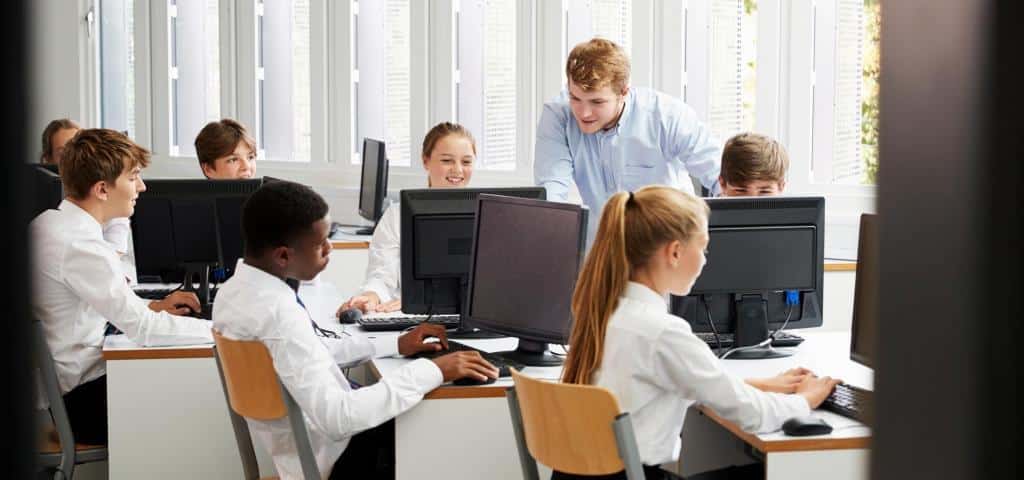 "As an organisation with extremely high expectations and standards, we were delighted to discover Limbtec. They clearly share our values and have met, and often exceeded, our requests and requirements."
Aaron Meredith
CEO Inspire Multi Academy Trust (South West) and Headteacher, Ernesettle Community School
Our five-step process for streamlining IT deployment for MATs:
1) Understanding your Direction
While all schools need secure, fast and reliable IT systems, we understand that every MAT has its own unique strategic direction. Our first step is to understand where you are heading and the role your IT systems need to play in getting you there. We can then start outlining some solutions.
We will also carry out a full audit of your existing IT infrastructure with an eye to minimising changes where they are not necessary. At the same time we will assess your existing skill set to give us an idea about training and support needs.
2) Developing a Trust IT Strategy
An understanding of your strategy will enable us to create an IT strategy tailored to your trust and its constituent schools. This will be designed to:
Solve your immediate pain points

Develop your IT infrastructure in the right direction

Be flexible and future-proof to enable integration with future technological advancements
3) Integration
The next stage is to integrate your new IT strategy with your existing three year plan. This will include creating a clear pathway that your trustees, members and relevant school staff can understand.
4) Delivery
We can then work on delivering the IT infrastructure and associated systems you need. This includes design and fact-finding, introduction and integration of the new technology, staff induction and deep dive training where necessary.
In addition to setting up your network, we can also:
Deliver economical high-speed broadband to support high quality multimedia delivery.

Set up robust network-wide Wi-Fi for safe and reliable wireless connectivity.

Handle secure tape-free data backup to your requirements.

Provide support for SIMS.
We will also take care of ongoing system monitoring and maintenance. This will ensure everything is always running in optimal condition from the moment the school gates open in the morning to school pick up time and beyond. We will also schedule regular visits from our skilled IT technicians.
5) Review
We are committed to working with our clients on their long-term IT development. We will keep in close contact with you through monthly summary reports and quarterly meetings.
"I thoroughly recommend Limbtec to any organisation looking for an honourable, knowledgeable, cost effective and efficient IT partner."
Aaron Meredith
CEO Inspire Multi Academy Trust (South West) and Headteacher, Ernesettle Community School